Minnesota Paid $40 Million to Federal Government in 2013
Posted by Matthew Deery on Wednesday, December 10, 2014 at 1:39 PM
By Matthew Deery / December 10, 2014
Comment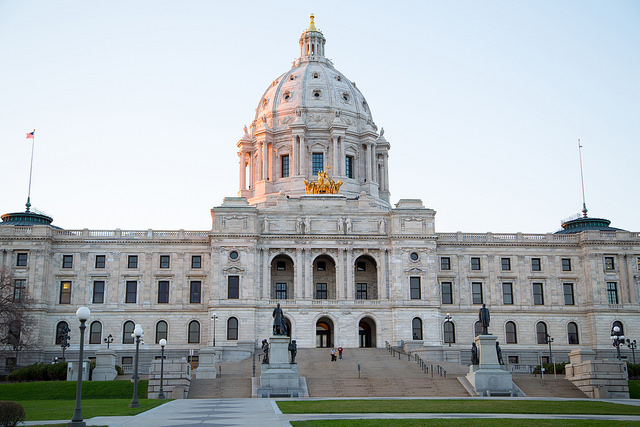 In 2013, the state of Minnesota's businesses and citizens paid $85.9 billion in federal taxes, but only got $45 billion back in federal grants, contracts, salaries, benefits and other compensation. This $40 billion divide is among the highest in the country according to the National Priorities Project.
"Minnesota is younger, healthier and wealthier" than the vast majority of the nation, said Dartmouth government professor Dean Lacy, who studies the relationship between states' federal contributions and benefits.
Minnesotans paid an average of $15,847 per person in inflation-adjusted federal taxes last year — twice the U.S. average. The state also ranks in the bottom third of states in per person receipts for federal programs like food stamps, Medicare, education benefits and unemployment benefits. Keep in mind, these are federal program statistics.
These numbers point to the fact that Minnesota has been working tirelessly to use its own state funds to take care of the problems within the state's borders.
"We tend to take care of our problems before the federal government has to," said Jay Kiedrowski, an expert in leadership at the University of Minnesota's Humphrey School of Public Affairs. "That's why this is a tricky problem. It's really a hard dilemma. … In a sense, we're being penalized for being efficient."
Minnesota is a state with high-income citizens and low poverty and those states tend to pay in more in the U.S. If the state had more poverty, it would collect more in federal funds. Many of the states that collect the highest in federal funds are at the bottom in terms of per capita income, citizens graduating from high school and citizens with a college degree.
At the end of the day though, the state being out $40 billion a year is a tough pill for Minnesota elected officials and citizens to swallow. With the exhorbant cost of college tuition, imagine what the state could do to lower costs for students with $40 billion. Or road construction projects, or with the school system, etc., etc.
Experts across the board agree this gap needs to be looked at closely, as the states who are doing the best are punished by the federal government. Draw your own conclusions about the federal government and the way it operates -- hopefully this will be something they look at closely and seek to remedy.
Photo by: Matthew Deery
Post a Comment
To post a comment about this blog entry,
click here
.